Grants Pass, OR – April 15, 2015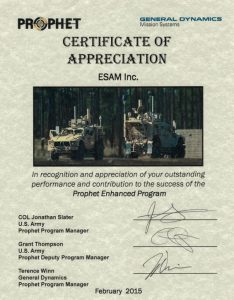 ESAM, Inc. has received a Certificate of Appreciation from General Dynamics Mission Systems for its outstanding performance on the Prophet Enhanced Program. The announcement was made by Dave Matheny, President.
To support a critical delivery on this U. S. Army program, ESAM had to make the "impossible" happen. Faced with minimal lead time, there were major challenges with parts deliveries that affected the build schedule, both of which had to be expedited.  Mr. Matheny said, "We took a project that would normally have a lead time of up to 22 weeks, and compressed it into about 7 weeks. Our team did an awesome job, especially considering that it included 90 different assemblies."
ESAM, a build-to-print contract manufacturer to the Aerospace and Defense market, has an AS9100C:2009 certified quality system. The company is certified as located in a HUBZone. For additional information contact Jim Anderson, Sr. Director of Sales & Marketing, at janderson@esam.com.